Top Ten Tuesday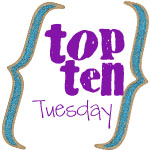 My top ten movies, in no particular order.
1. Best in Show- this is one of my favorite comedies ever- seen in a hundred times and it never gets old.  Plus, it's full of quotable moments, which Dave and I love.  My favorite quote is: "We could not talk or talk forever and still find things to not talk about. " Best in Show is a Christopher Guest movie that is a "mockumentary" about the dog show world.  Funny stuff, I tell ya.
2. Notting Hill- this is one of those movies that Dave and I have watched over and over and still cried at every cryable moment and laughed at every laughable moment.  Favorite Quote: "After all… I'm just a girl, standing in front of a boy, asking him to love her."  BTW- this is Dave's all time favorite movie.  I have to leave you with a picture of Spike.
3. Anne of Green Gables- I have seen each series so many times, I even own them all on DVD.  Three years ago, we went to Savannah with friends for our 10 year anniversary.  Heather and I watched the entire series in the van ride down and back. Boy oh boy were the boys mad.  We had headphones, but we were still always shushing them!  When I was a kid I dreamed of having red hair and being called carrots.
4. Sweet Home Alabama- how can you go wrong with Reece Witherspoon and Patrick Dempsey?  This movie has it all- comedy, the south ( I may be a democrat, but I'm still a southerner!) and love. Plus, this was my first intro to Josh Lucas- he's a great actor!
5. The Notebook- hated the book, but loved the movie.  I have NEVER said that about a movie based on a book.  One of my favorite quotes is actually, "Don't judge a book by it's movie."  I don't know- I'm just not a Nicholas Sparks fan.  But, dang, this was a good movie.  I could and have watched this one over and over.  You really can't get more romantic than this one.
6. Harry Potter- Even though the movies don't do the books justice, I think the characters are always right on the money and except for the first movie, I think the acting is quite nice.  I'm a little bit of a Harry Potter freak, so you'll have to bear with me.  Bailey just started reading the first one- actually we're taking turns reading it to each other- with Jake listening.  He's read them all before.
7. Twilight- I just bought this today and was rather peeved that it was $17.  I always buy movies the week they come out because they're around $14, but this was more.  Grrr.  Still, I can't wait to watch it again. The movie was not nearly as good as the book, but Edward personified…or is that vampirified… is what I long to watch again.  Ah…Edward.  It was kind of a given that I'd like this one- Dave and I were huge Buffy and Angel fans, as well as Interview with a Vampire.  We just like Vampire stuff.  I can't wait for Dave to see this one!
8. Kung Fu Hustle- disclaimer- this one's in Chinese, so you have to deal with subtitles, but you'll  forget about it in the first few minutes when you are laughing so hard you pee.  If you enjoy it, move on to Shaolin Soccer next – not as good, but still a good Stephen Chow movie.  I love me some Stephen Chow. Not only is the main star, he also directed, wrote, produced and composed this movie.  Now that's what I call talent!  I can't wait until next year when Kung Fu Hustle 2 comes out. I'm a sucker for romantic comedies and I just dig Shephen Chow's hair.  He really knows how to rock an asian-style mullet.
9. The Shawshank Redemption- it seems like every few months this is on tv on some station that we happen to turn to and we watch it all over again.  Whether it's on the couch or catching a snippet while folding laundry.  I just love this movie.  If you haven't seen it, you are missing out.  Not on fun or some laughs, but on a brilliant movie with brilliant acting that will change you.
10. I'm having a hard time picking a 10th.  I've got the whole 80′s movie genre with films such as Back to the Future, Trading Places, Coming to America, Can't Buy Me Love, Say Anything, Indiana Jones and then I have dramas like Memoirs of a Geisha, Schindler's List and The Pianist and then just plain good movies like Pirates of the Caribbean and Lord of the Rings.  So, I'm just going to have to group those all in together as one giant favorite 10th movie.  And I'm not giving you pics of all of them! 
If you enjoyed my Top Ten Tuesday and want to see more, stop on by OhAmanda.com.
10 Comments »
Hi Becky,
This is a really great top ten list, I like your taste in movies. Shawshank Redemption is #1 on my list, Best In Show make my list too. You can post this to our site http://www.toptentopten.com/ and then link back to your site. We are looking for top ten lists and our users can track back to your site. The coolest feature is you can let other people vote on the rankings of your list.

Comment by Vince | March 24, 2009 |

Hi Becky,
This is a really great top ten list, I like your taste in movies. Shawshank Redemption is #1 on my list, Best In Show make my list too. You can post this to our site http://www.toptentopten.com/ and then link back to your site. We are looking for top ten lists and our users can track back to your site. The coolest feature is you can let other people vote on the rankings of your list.

Comment by Vince | March 24, 2009 |

I love Shawshank Redemption!

Comment by Cathy | March 24, 2009 |

I love Shawshank Redemption!

Comment by Cathy | March 24, 2009 |

I love all of the Harry Potter movies (and books) and anxiously await the next few!

As for #10, I vote for Say Anything or Can't Buy Me Love. Either of those movies (to me) get better with time!

Comment by Janna | March 24, 2009 |

I love all of the Harry Potter movies (and books) and anxiously await the next few!

As for #10, I vote for Say Anything or Can't Buy Me Love. Either of those movies (to me) get better with time!

Comment by Janna | March 24, 2009 |

I love Shawshrank Redemption! The others will have to be added to netflix

LOL you make me laugh. And well I might just do that. Do you have kids? mine needs new friends all the time so it would be fun and I get to talk with an adult!

Thank you for visiting with me, I hope you are having as much fun as I am meeting such wonderful families from all over.

Happy UBP!

Blessings to you

Colette

Comment by JamericanSpice | March 25, 2009 |

I love Shawshrank Redemption! The others will have to be added to netflix

LOL you make me laugh. And well I might just do that. Do you have kids? mine needs new friends all the time so it would be fun and I get to talk with an adult!

Thank you for visiting with me, I hope you are having as much fun as I am meeting such wonderful families from all over.

Happy UBP!

Blessings to you

Colette

Comment by JamericanSpice | March 25, 2009 |

Colette- my kids are 12 and 9, so they're quite older than yours.

Comment by Becky | March 25, 2009 |

Colette- my kids are 12 and 9, so they're quite older than yours.

Comment by Becky | March 25, 2009 |
Holler at me

davebecky1996(at)msn(dot)com

Sisterchicks

What I'm Reading